Today in History, May 30:
70 – Siege of Jerusalem: Titus and his Roman legions breach the Second Wall of Jerusalem. Jewish defenders retreat to the First Wall. The Romans build a circumvallation, cutting down all trees within fifteen kilometres.
VIRTUAL JERUSALEM | www.virtualjerusalem.com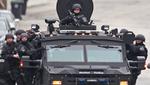 04-20-13
Boston Terrorist Bomber Dzhokhar Tsarnaev Captured
A massive police operation in Boston ended Friday night, April 19, with the capture of Dzhokhar Tsarnaev, 19, suspected of the twin bombing Monday, April 15, at the Boston Marathon which left three dead and 180 injured and the death of a police officer in a shootout out at MIT.
A massive police operation in Boston ended Friday night, April 19, with the capture of Dzhokhar Tsarnaev, 19, suspected of the twin bombing Monday, April 15, at the Boston Marathon which left three dead and 180 injured and the death of a police officer in a shootout out at MIT during the day Friday. Described as armed and dangerous, he was finally hunted down hiding in a boat in a Watertown backyard and injured before he was captured.

Many hundreds of town, state and federal officers, with helicopters, held Boston in lockdown for a day to scour the town door to door. Bostonians came out to cheer the police after hearing their mayor Tom Menino say: "We got him!"

His capture will enable the investigation to answer questions about the motives behind the acts of terror of which the two brothers of Chechen origin, Tzhokhar Tsarnaev and Tamerlan, 26, are suspected, and find out who else was involved. Tamerlan was killed in a shootout with police at Watertown earlier.

Questions have been asked about the semi-official history of the Tsarnaevs's arrival in the US in 2002 as "political refugees." How did the young Dzhokhtar come to be admitted to an elite Cambridge college in the United States? – is one. The Chechen family came from Dagestan, a Russian republic for years in the grip of violent Islamist violence. Since early 2013, alone, 124 people have died and 75 injured in attacks by Muslim terrorists.

debkafile's counter-terrorism sources report the brothers were suspected from the first of acting with associates, foreign or domestic. - or both. The main two tasks facing the investigation are to uncover any connections between the two bombers of Chechen origin with international terrorist organizations and who supplied them with quantities of weapons and explosives described by the police as of "military grade" after they left the scene of the marathon bombing?

Our sources earlier traced a link to a Chechen Wahhabi cell suspected of being funded by Saudi al Qaeda.

The FBI questioned the older brother two years ago at the request of "foreign government" – believed Russia - about his ties with Caucasian Islamist terrorism. The inquiry was described as "put to bed" although Tamerlan visited Russia last year. It is now suggested that it was he who recruited his younger brother and converted him to radical Islam and jihadism.

The Chechen family came from Dagestan, a Russian republic for years in the grip of violent Islamist violence. Since early 2013, alone, 124 people have died and 75 were injured in attacks by Muslim terrorists.

Another question to be answered is: How and why was a lone terrorist, albeit armed and dangerous, allowed to hold an important American town of three million under siege for almost a day?

Read debkafile's earlier coverage Friday.

Two Chechen brothers from Dagestan were identified as the terrorists who detonated two bombs at the Boston Marathon last Monday and carried out a bombing-shooting spree at the MIT campus in Watertown outside Boston, Friday, April 19, in which a police officer was killed.
Tamerlan Tsarnaev, 26, and Dzhohav Tsarnaev, 19, escaped the MIT campus in a hijacked Mercedes SUV, chased by the police. As they threw explosives out of the window, critically injuring another police officer, police bullets hit the older brother, who died in custody. The younger one, identified earlier as
"Suspect 2 in the white cap" made a run for it.

Warning he is armed and dangerous, the police hunt has placed parts of Boston, Watertown and other outlying towns under curfew and suspended public transport. Hundreds of law enforcement officers, federal agents, national and state police backed by helicopters are scouring the area door to door, after warning people to stay home and not open the door to strangers.

The Boston police stress that the event is still ongoing and the investigation is closely coordinated with Washington. Many of the facts as released so far are conflicting or unclear.

The Chechen government denies the two brothers lived in their country and say the family left some years ago and finally settled in the United States. Boston officials report that the family arrived in the US in 2002. The student won a scholarship in 2011 to study at a college in Cambridge.

The incident began with gun shots reported at 10:48 p.m. at Building 32 on Vassar Street near Main Street, off Kendall Square, when the two men armed with guns, explosives and wearing body armor were apparently about to seize the university building. The police officer who responded to the upset was shot dead.

The attack occurred shortly after the FBI released images of the two main Boston Marathon bombing suspects with an appeal to the public for information to identify them.

Suspect 1 is shown wearing a black cap and, walking fast close behind him, Suspect 2 in a white cap. Both carry large black packages and both have Middle East complexions.

FBI Agent Richard Deslauriers who is in charge of the investigation said Suspect 1 planted the first bomb, while a few seconds later, Suspect 2 was filmed placing a package at the site of the second, more powerful bomb, and walking away very fast.

Both men are dangerous, he said, and should not be approached by the public.

The images the FBI released of the two suspects have been floating around the Internet for the past 36 hours. And so the suspects must know they are being hunted. debkafile's counterterrorism sources add that both have either gone to ground in a pre-arranged hideout or have left the United States. The way they walk behind each other as they pass through crowds without losing contact strongly recalls the formation maintained by the suicide bombers who blew up the London Tube train on July 7, 2007.

via debka.com
Soul Food, May 30
One thing in the world, of value, is the active soul. -Ralph Waldo Emerson